SERVICES
Financial Statement Assurance

Raphael and Raphael provides comprehensive financial statement assurance aligned to your unique business needs—to build a stronger, more profitable business.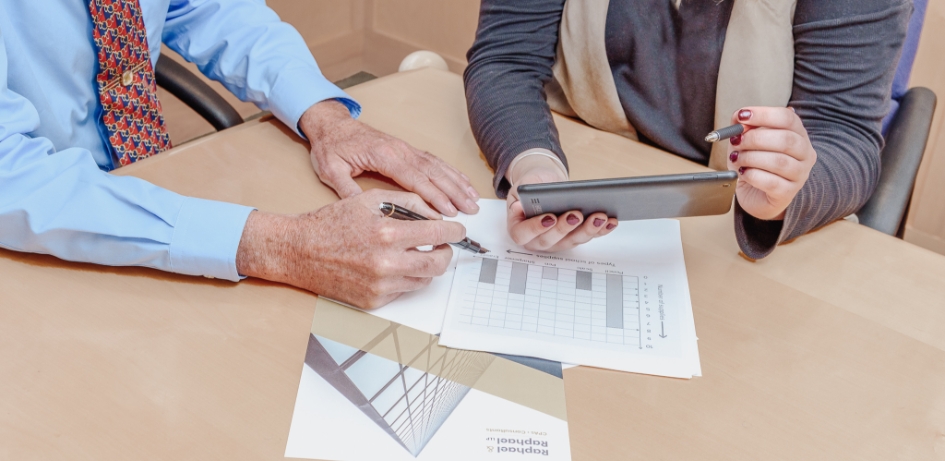 Trusted Audits, Reviews and Compilations Aligned to Your Informational Needs
For over 70 years, Raphael and Raphael has been helping business owners and operators to better plan and manage their procedures, controls and systems with reliable, accurate financial statements. We also seamlessly integrate our financial statement attestation with our other services—including the preparation of your tax returns, profitability analyses, forecasts, or other consulting needs—to provide you with the best service possible.
Be confident that your financial statements have been looked over by a professional and fairly presented to the level of assurance that best suits your needs.

Learn more about your company from an outsider's perspective.

Identify opportunities to boost security and efficiency.

Better understand the impact of large or unusual transactions, new agreements, and more.
National Firm Quality.
Local Firm Relationship.
As a local accounting firm, we strive to provide the quality service you'd expect from a big firm while maintaining the personal, approachable demeanor of a friendly neighbor. Our decades of success stem from our efforts to always deliver the Raphael and Raphael difference:
We take the time to truly get to know you and your business, your goals and your challenges.
We use our understanding of your business along with our deep experience to tailor every service we provide.

The same Raphael and Raphael team works on any need you have—whether planned or not.

We tailor your statements, presentations and reports so you have what you need at a glance.

We tailor your statements, presentations and reports so you have what you need at a glance.
What Our Clients Are Saying About Raphael and Raphael
"Our company had always gotten reviewed financial statements just to meet the requirements of our bank debt. But as time went on, we weren't getting timely advice and our financial statements stopped meeting the bank's requirements. We started looking for a new accounting firm and Raphael and Raphael impressed us from the start. Not only have they been able to provide better financial statements that fully comply with generally accepted accounting principles, but they also work with us to ensure we understand the reporting and that we have useful information to help us run our business. Since then they've helped us with some complicated tax matters as well and have overall been fantastic to work with."
—New-England Based Forestry Corporation